IT
EN
DE
FR
Fascinating tour of the oldest stone studios for
sculpture, design and school of art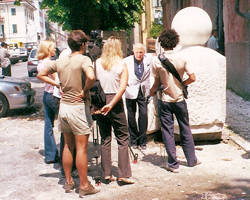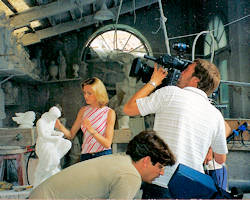 Reaching the very centre of Carrara your unforgettable stop will be the visit of the oldest and most qualified stone studios in the areas of Carrara and Pietrasanta, manufacturing original sculptures for the most important names in contemporary art, and producing high fidelity copies of the classical masterpieces, from the old antique nudes and divinities to the renaissance or neoclassical masterpieces, Michelangelo, Bernini, Canova. Objects of design or environmental installations in stone can be made here too.
We start from the core of this XIX building complex, the main office of the general manager of the company, a big elegant room on the ground floor of the historical family house Nicoli. Here businesses and meetings take place with museum directors, artists, collectors, investors in the fields of art and decoration.

Passing by the gallery full of dusty plasters of all époques, roman busts, a big horse in marble, the representation of a national hero to Paraguay, we enter the bigger studio. White dust, motor noises of the workers attending each one a new piece of sculpture by the hand or using air compressor machineries. On the walls are hung the witnesses of a past of glory, the time when tons and tons of marbles were leaving Italy to reach and sew beauty in all countries. In the hands of the workers or on top of their wooden crates today's best examples of a new taste for homes and public spaces. Here the roughing out is carried on by professionals just involved in this peculiar phase of the artistic workmanship of marble.

We then move to the smaller atelier. All has been renewed by recent restoration, but the good old smell of tradition and masters can be absorbed by the minute care of the finisher, the patient love of the polisher. Here the artwork gets its final retouches to then reach ports in Usa, Japan, Brasil. Beside the marble masters are at work the younger scholars and apprentists who learn techniques and improvise for their personal improvement.
Details:
Parking place for bigger buses just in front the house Nicoli.
Visits can be made Mondays to Fridays from 9 to 12 and from 13 to 16.
A guided tour takes approximately 30 minutes.
Groups bigger than 20 units are divided into two smaller groups.
Your guide will be Mr Raffaele.
Saturdays and Sundays can be available booking in advance.